mEET OUR NEWEST SERVICE DOG RECRUIT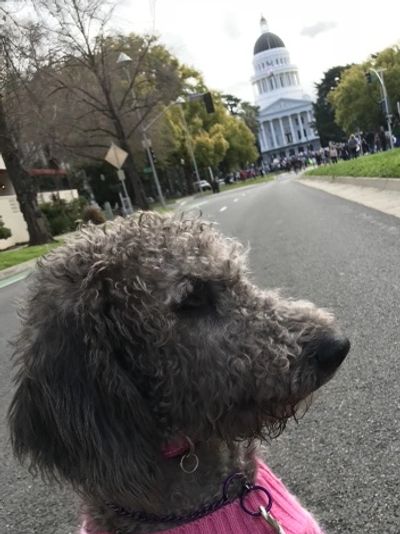 My Name is Vivian
I am 6 months old
I am 1/4 schnauzer and 3/4 standard poodle (I guess that makes me a schnoodle?)
My favorite toy is the multi squeaker, squeaky toy
My favorite treat is a bully stick - actually, I like all sticks!!
I now weigh 45 pounds!
Training
I know the "sit" command (I really like it when I get praised for sitting)
I have learned nose touch, sit, down, I am working on walking nicely on a leash but I still get excited when I see children. They are so much fun!
I know how to visit appropriately
I am learning to work with different people.
I know the "place" command.
I know the "stay" command
I know the positions "front" and "side"


New Adventures
I went on a sleep over last week. I spent 4 days away from home! Boy, did I have fun!!
I went on a March at the Capitol!
I got to snooze on a new doggie bed!
I am back home again now, boring....